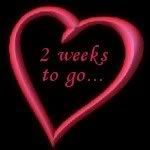 2 Weeks from today and i get to see my man!! so i am doing a little happy dance right now!!!

yep, i know im crazy, but im excited...this time has seemed longer then any other because he was at NTC and communication was so limited...
another thing to dance about, by now my divorce papers should have been filed...

I will be a free woman by next summer...that is definately something to celebrate..ive been waiting for this for a while now!!
ugh, it always is such a pain waiting for the kids to come home on Sunday nights...i enjoy my quiet time, but by sunday night im ready to give them hugs and kisses again...they will be home within the next couple of hours..yay!!!