Nicks midtour leave ended at 6:30 am....it hasnt even been 12 hours and im missing him so much already that I feel sick...a part of me is missing...I did well this morning, i only cried a little this time..I try to stay so strong for him when he has to go, but its a lost cause...its starting to hit me harder tonight...im starting to feel it...the boys too....i had a talk with the twins this afternoon and they started crying...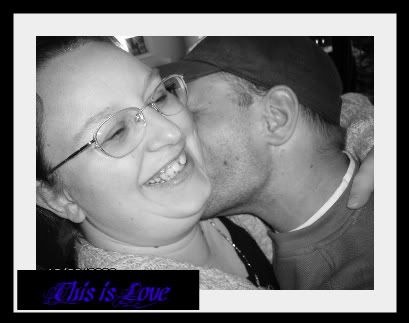 on a happier note, we had an amazing time, and i got lots of pictures...way too many to post here, but if you would like the link send me a comment on this blog, and i will send the link to the page for them...
he was home in time for Thanksgiving, which is what we were hoping for...I had Thanksgiving with his family...they are really great to me...i love them as part of my own already...we went up to Grand Rapids for a couple of days...we stayed in a room with a jacuzzi tub...it was so nice to have some time alone with him...The first night we were there we went on a sleigh ride through Frederick meijer gardens...it was absolutely amazing...it was at night, and they had Christmas lights all over...then after that we went to Noto's...its an italian place up there...very fancy, and very romantic...and omg the food! wow....i thought i had gone to the afterlife with that stuff..lol...it was yummy! and the wine list was a leatherbound book of 50 pages or more...i stuck with a chocolate martini....
the next day we went to Van Andel museum...i think we were in there for 4 hours! there was so much to see...then we went to The Bob....its a whole building of bars, and places to eat...that was great too...i think next time we go it will have to be on a weekend though...cuz the place was pretty dead...they had great food too...after we ate, we played pool, and had some drinks...and Nick kicked my butt on a shooting game..lol...but well, its what he is trained for....lol...we got a little bored with that, and headed to the movies....we got to see Dark Night.....what a great movie! i was impressed...
time went so fast....Nick bought a car...its a cute little 2007 ford focus....its perfect for him...and will be great for the driving he needs to do to look for a job in the spring...its fun to drive...I havent driven anything that small since before logan was born...
My van died while he was here...it needs a new alternator, but im not sure when i will be able to do that...a friend said she might be able to find someone to put it in for me if i can get one...so hopefully after christmas i will be able to...i dont want to put a bunch of miles on Nicks new car...it has very low miles on it....and im afraid the kids sliding in and out will tear it up...it makes me nervous...
We had 3 Christmases..one with his family, one with mine, and one just us and the boys...Nicks dad bought us a dryer! it saves me so much money, and im so greatful for it...i cant imagine having to go the the laundromat in this weather...Nick got some great stuff from everyone too...i felt bad though, i didnt really have the money to get him anything...
Saturday we did some hanging out...we picked up his neice, and went to Circuit city, barnes and nobles, and then to see Twilight....it was a good movie, but definately not as good as the book!
Im tired, ive been up since very early this morning...i tried to nap, but i just couldnt do it...my bed felt empty...its just not the same without him...
we officially have 12 months down on the deployment now...only a few more to go...im so greatful for that...well im off to make dinner..i know there are some things im forgetting so tell me what you want more details on..lol....