Sorry my posting kinda took a vacation for a bit. The last month of planning before the wedding was crazy busy...Anyway, we are married, and so dang happy...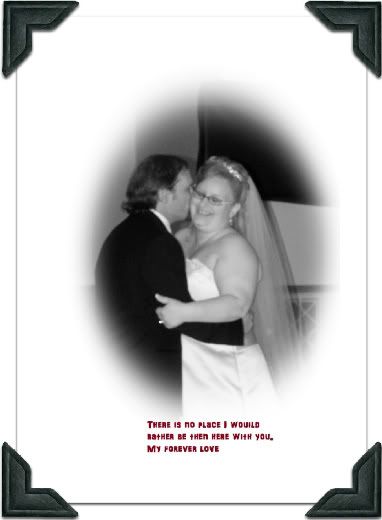 A picture of our first dance!
It was a fairytale day, and im so in love with my husband :) It was great to have our friends and family there to help us celebrate this life together, and to watch us make that lifelong commitment to each other. Lots of pictures were taken, but im at work, so i dont have access to them. I will post some later, or you can see the ones my friend jessica took on facebook.
So a couple of days before the wedding Jessica flew in from TN. It was so amazing having her here with us. I miss her so much.
Our families and wedding party were so helpful in getting stuff done, its amazing how people come together like that..i am so grateful for them all.
The twins are in summer school..Logan was suppose to be, but they put him on a waiting list instead. Dosnt make me very happy for sure. He is the one that needed it the most. But there is nothing I can do at this point. They will do well in their new school next year i am sure of it :)
The kids arent going to their dads house every other week this summer. Not with them being in summer school. its better for them this way anyway. Last school year they started out way behind because he dosnt make them do anything that takes thought while they are there. Everything they learned just kinda fades away after they spend half the summer with him.
I bought a van from my ex husband last November. He still wont give me the title. he wants me to get the plates renewed in his name for some reason, and i wont do it. so i am driving on expired plates, because he wont give me the title. If he wont, im gonna have to find a way to come up with a car. something that will get me back and forth to work. i dont know what his issue is with the van, i paid for it, its mine, he needs to give me the title so i can make it legal. i cant find the reciept anywhere, but i took money off his child support for it..the damn thing is mine..im pretty sure its his one last attempt to try and control the situation, but it wont work. i will find a way to get something else to drive if i have to sell half my stuff to do it . i am tired of him, and his holier then thou attitude.
anyway, nick is still working the same job, and going to school. and now he is playing disk golf, and sometimes regular golf. he is a busy man these days.
I had 2 weeks off for the wedding, and i came back to work yesterday. I am glad to be back. i like working. the store is still not very busy though. so there isnt alot to do around here, but i have no doubt that things will pick up soon. especially once school starts back up.
My mom got into an accident about 2 weeks before the wedding. it totaled her car. she spun it during a bad storm on her way home to work, and it hit the guard rail. if she hadnt hit the rail, she would have flipped it..her seatbelt busted, and she was bruised up pretty bad. there are times where she is still really stiff from it. I am so glad nothing more happened to her.
I am sure i have more to talk about, but im drawing a blank right now, so i will have to come back later.